Our Feel Good Butter Chicken is a mouth-watering dish that combines the flavours of traditional butter chicken with the added goodness of protein. Get ready to indulge in a creamy and aromatic curry that will tantalize your taste buds while providing a protein-packed meal. The combination of tender chicken, aromatic spices, and the added protein boost will leave you satisfied and nourished.
Whether you're looking to impress your family and friends or simply want to treat yourself to a nutritious meal, this Feel Good Butter Chicken recipe is a must-try! So, gather your ingredients and get ready to embark on a culinary adventure. Let's dive into the world of flavours and protein-packed goodness!
We know that puree meals are a must have for the bariatric community so we're pleased to say that this recipe can be pureed.
Ingredients
700g boneless, skinless chicken (thighs or breasts), cut into bite-sized pieces
1 cup plain no fat Greek yogurt
3 tablespoons lemon juice
4 scoops Tasteless Protein by Feel Good Protein
2 teaspoons ground cumin
2 teaspoons ground coriander
1 teaspoon ground turmeric
½ teaspoon chili powder (adjust to taste)
1 teaspoon garam masala
1 teaspoon honey
2 tablespoons unsalted butter
1 large onion, finely chopped
2 tbsp garlic, minced
1 tbsp ginger, grated
1 cup tomato puree
½ cup Mingle Tomato Sauce
1 cup Lite Coconut Milk (optional)
Salt, to taste – Fresh Parsley
To Puree
½ cup of Butter chicken
1/3 cup Beef or Chicken Stock & Blend
Method
In a large bowl, combine the yogurt, Tasteless Protein by Feel Good Protein, lemon juice, cumin, coriander, turmeric, chili powder, garam masala. Mix well.
In a large skillet or pan, melt the butter over medium heat. Then add the chopped onion and sauté until it becomes soft and translucent, about 6 minutes. Stir in the minced ginger and garlic and cook for an additional 2 minutes.
Add the marinated chicken, along with any excess marinade, to the skillet. Cook the chicken until it is browned on all sides, about 5-7 minutes.
Next, stir in the tomato puree and season with salt to taste. Reduce the heat to low, cover the pan, and let it simmer for about 20 minutes, or until the chicken is cooked through and tender.
Stir in additional tomato sauce and optional lite coconut milk,and let the mixture simmer for 5 minutes.
Taste and adjust the seasoning if needed.
Remove the pan from the heat. Garnish the Butter Chicken with parsley or coriander.
Serve the Feel Good Butter Chicken hot with your favourite accompaniments – possibly cauliflower rice, basmati rice or naan bread. Note: Feel free to adjust the spice levels according to your preference. You can make it milder or spicier by adjusting the amount of chili powder and garam masala.
To Puree and Store for Puree Stage or Soft Food Stage Post-Bariatric Surgery
Ensure that the spice level is mild and add ½ a cup of butter chicken to a blender cup then top that off with 1/3 of a cup of chicken or beef stock. You can add additional Tasteless Protein by Feel Good to this mixture prior to blending to increase your protein per serve if desired.
Blend until totally smooth and store in ice cube trays in the freezer. Defrost as desired.
Macros
Per 100g
Calories – 140
Carbs – 5g
Protein – 20g
Fat – 4g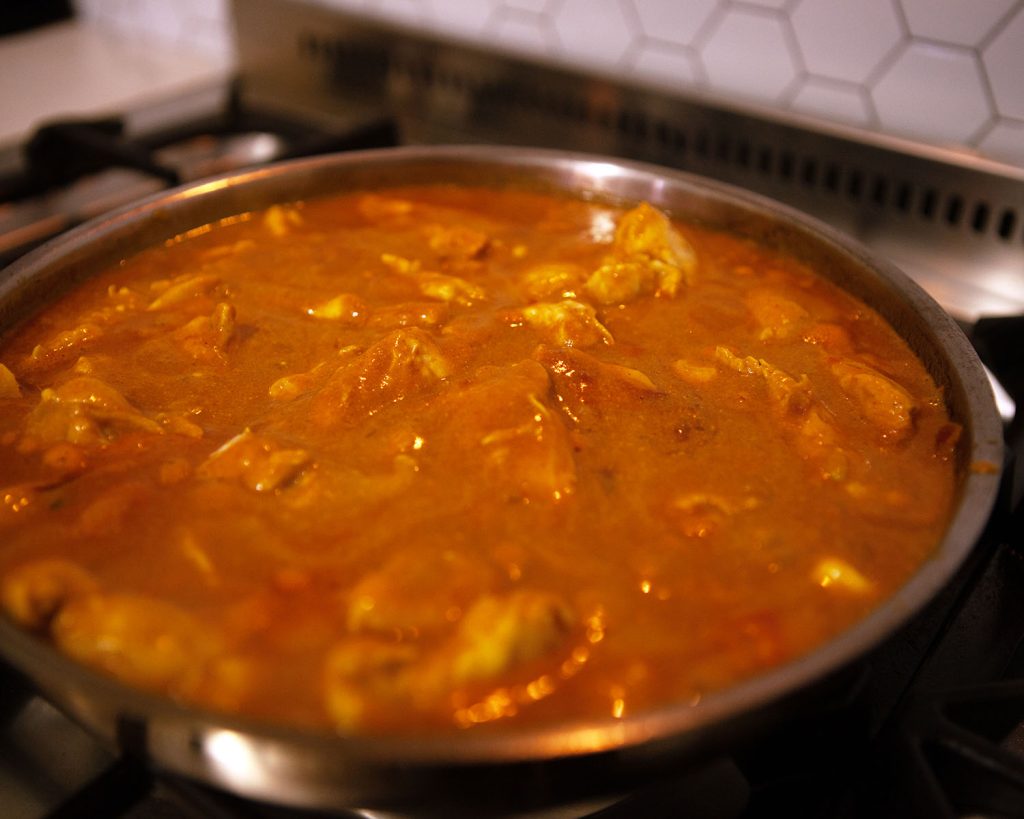 To Puree